The Aging in Place Quick Guide
When you hear "Aging in Place" you might think home modifications, ramps, trouble negotiating stairs, grab rails, etc. Today, it has a whole new image. It can be defined as long-term livability in your home.
The Aging in Place market is 61% of home owners, and 30% of the total population in our country. According to a research study conducted by AARP, 87% of people over the age of 65 want to stay in their homes as well as 71% of people between the ages of 50-64. An increase in the number of seniors staying in their homes means an increase in the building and remodeling industry.
Another industry being directly affected by Aging in Place is the residential elevator business. The only way to stay in a multi-story home and access every floor is to install a lift of some kind. Home elevators increase the value to the home, fit inside a standard size closet, and are cost-effective.
"Many residential clients are looking for a home design that will last them throughout their senior years. Safe and easy access to all areas of the home is crucial when considering how people will use their home over time. Elevator access to all floors of a home is a must for any client who plans to age in place."

-Phillip J. Summers, AIA, LEED AP
Universal Design and Aging in Place
Universal design provides solutions for those in a wheelchair without making it obvious that someone in the home is in a wheelchair. In universal design, accessibility is paramount-for everyone in the home and visiting. Universal design basics include wider doorways, lower cabinets and countertops, no-step entries, and home elevation (elevators and wheelchair lifts). Universal design does not include temporary modifications such as removable ramps and stair lifts.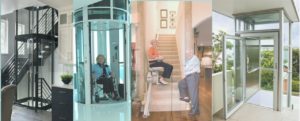 DID YOU KNOW:
The preferred term among the aging market is "Thriving in Place"?
Aging in place is not limited to seniors? One can age in place at any age. Anyone in their "forever" home is considered aging in place.
Average price of assisted living in the state of CT is over $5500/month?
Some areas give aging in place tax credits?
https://www.elevatorserviceco.com/wp-content/uploads/2017/11/tiago-muraro-6395.jpg
1715
3061
Amber Wilder
http://www.elevatorserviceco.com/wp-content/uploads/2017/02/esco-logo-300x101.png
Amber Wilder
2017-11-13 17:07:50
2017-11-27 17:21:00
The Aging in Place Quick Guide